Check out my progress on my weight loss journey with this April 2021 accountability check!
I was mortified when I first zoomed in on myself in our family picture in front of our new house. I had to keep reminding myself that it was a moment in time for how I looked, but one of the greatest memories for our family and that was what was important.
Plus, with all the cute kids in the picture you didn't really see Mama in the back row
. My kids look at the overall picture and see Mom and everyone else sees a happy family, but I can't help but notice the Mom barely keeping her health together after a rough few pregnancies.
I do cherish our family picture in front of our house, but zooming in on myself in that picture wasn't something I ever planned to share with the world.
I'm only 30 pounds lighter, but it has been transformative for me to start taking my health back.
I've spent my whole life as an athlete, but I struggled with finding time (and let's be real — energy) to get back to myself! This is the year that I reclaim my time and start taking care of me!
Side note: I totally put this dress on the other day and said "this would make a comfy night gown" because it was so big!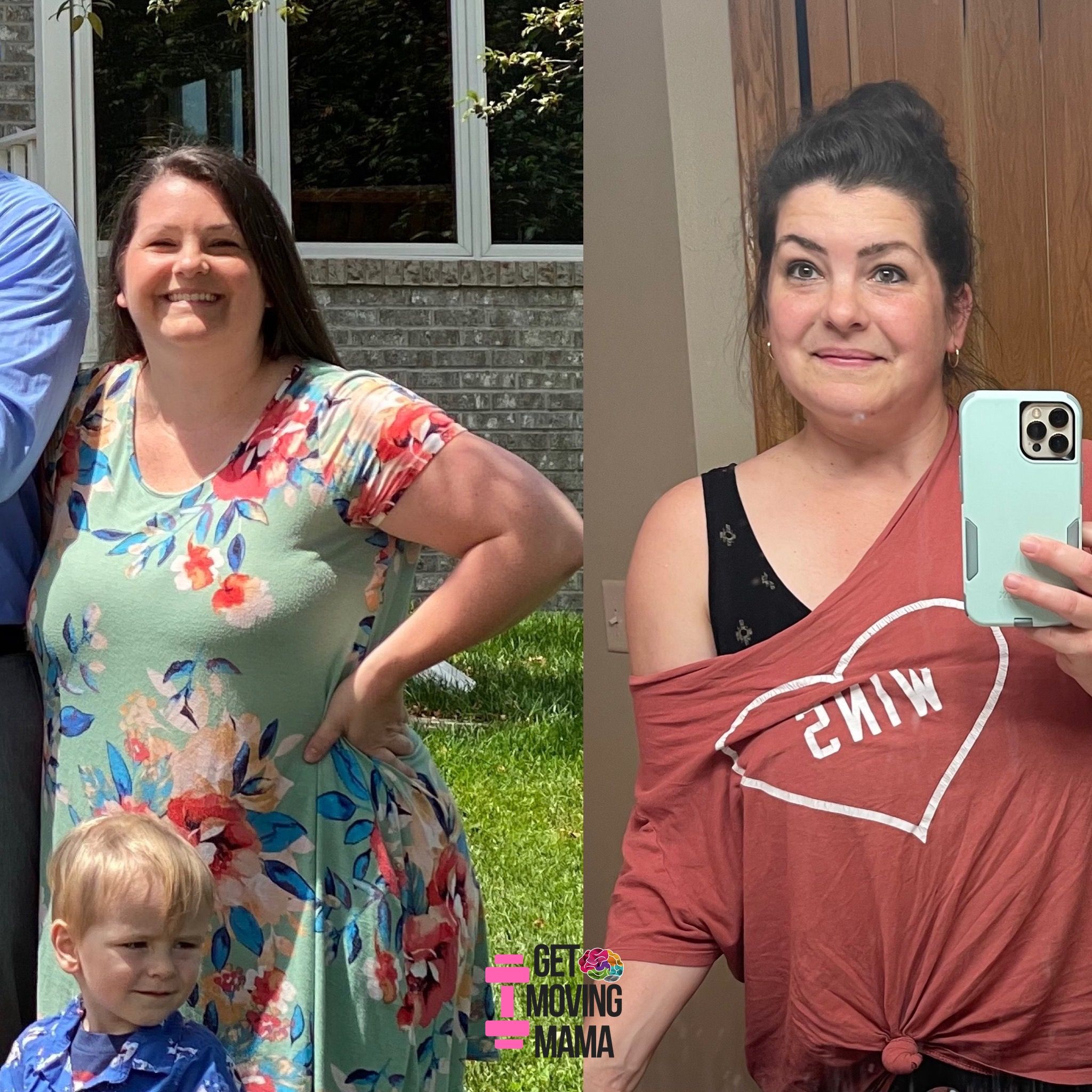 Weight Loss Goals for 2021
Healthy Mama Goal #1
My first set of healthy mama weight loss + mental health goals were to get rid of 5th baby weight, get back in a size 8, get my blood pressure down, and run at least 2 miles every time I ran.
5th Baby Weight
I gave birth to Sawyer, my 5th kiddo, weighing in at 236lbs. This was the most I have ever weighed and she was the last baby. This made me both older and heavier than ALL of my other pregnancies, which made it even harder to drop weight.
When I became pregnant with Sawyer, I weighed 179lbs and in August 2020 I weighed 216lbs <– my starting weight loss journey weight!
Goal #1 weight drop = 37lbs
Get Back in a Size 8
Getting back into a size 8 is more than just getting to a number. Getting back to this size also means that I'm doing the right things to lose inches from my body. This helps to pay attention to my body fat percentage, which helps to decrease the overall body fat percentage and improve my cardiovascular health!
Plus, it feels good to come down and not have to buy new clothes for a different Summer season.
Decrease Blood Pressure
My doctor is increasingly nervous about my blood pressure. I had preeclampsia with two pregnancies and I also have a family history of high blood pressure. It is crucial that I lose weight and stabilize my blood pressure in order to keep my heart healthy!
My first blood pressure goal is to stabilize in the 130s/80s.
Run at Least 2 Miles for Every Run
This gives me a number to work for and that helps me to stay motivated. I'm trying to run on a treadmill 2-3 times a week. Increasing my overall mileage every week is necessary to keep my weight loss on a downward trend.
Healthy Mama Goal #2
Healthy Mama goal #2 is to lose the remaining Liam baby weight (4th kid problems!), drop to size 4, and run 3 miles every run!
Goal #2 weight drop = 15lbs to 164lbs
Healthy Mama Goal #3
Goal #3 is to lose remaining Thea baby weight (25lbs) and finally rejoice when I can wear my all time fav jeans that are a size 2 that I haven't worn since I was 2 months along with Thea (baby #3). I also want to mix up workouts and find some passion for different exercise activities.
Goal #3 weight drop = 25lbs to 139lbs
Healthy Mama Goal #4
Goal #4 is to lose that remaining Mama weight (about 10lbs) and tone up. I'm more interested in the tone up than the weight amount at this point. I'd like to see definition in my arms and a 15% or less body fat percentage.
Goal #4 weight drop = 10-12lbs to final weight of 128lbs! <– I'm 5'2, so please remember that this number is specific to me based on my height! Always consult a doctor to determine the best weight for your age, height, and body type.
Weight Loss April Update
Dirty mirror bathroom selfie for the win, but I had to capture this shirt! I wore this shirt as a shirt last summer. It made me uncomfortable because I felt like I looked huge in it, but I tried to style it by tying the side while also trying to wear a tank that covered any bulges that might show.
Three months ago, I started to knot the shirt higher, but the neck and chest still fit like normal. Now, it is a fantastically loose sleep shirt that will have to be retired soon if I can't keep the neck from sliding off of my shoulders!
I just tested it and my shoulders fit in the neck opening without stretching. My arms are starting to get their shape back and I'm losing inches left and right from everywhere, but I took a look at myself tonight and said "Damn! My arms are starting to look good again!"
My arms are always a touchy thing for me postpartum. Now, I'm starting to get some curve back to my body and it's exciting!
5lbs left until my first goal weight! Thanks for sticking with me friends!! It's awesome to have people cheering me on and giving me tips and tricks to eat healthier and stay motivated!
My clothes bins in the basement are calling my name and I can't wait to bring them out and start trying on clothes in another two-ish weeks! Just in time for summer!!
Weight Loss Stats
Starting Weight = 216lbs
Weight Lost = 32lbs
Current Weight = 184lbs
Join me on this journey Mamas! It's time to Get Moving!